Summary
"The BCCI will have to take a positive decision (on Sreesanth) if the court has given an order," the stylish right hander said in Mumbai on Wednesday, August 9, at the launch of Azhar, the Captain, a 3D mobile game.
The Andhra high court in its judgment five years ago absolved Azhar of all charges, but the BCCI refused to lift the life ban imposed on him.
Last September, the BCCI in a surprise gesture invited Azhar for the Indian team's 500th Test in Kanpur.
Along with former Test captains Sunil Gavaskar, Ravi Shastri, Sachin Tendulkar, Sourav Ganguly, Anil Kumble and Mahendra Singh Dhoni, Azhar was present at Eden Park, Kanpur, a ground where he hit the third of his consecutive Test centuries in his debut series against England in 1964-1985.
Photograph: BCCIAzhar revealed he was unhappy that Anil Kumble had to step down as India's coach despite delivering good results in the year that he was in charge of the Indian team.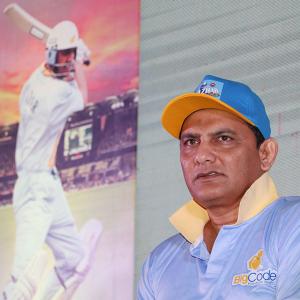 Read more…