Summary
Ottis Gibson set to be South Africa's next coach, says Faf du Plessis By Andy Charles Last Updated: 10/08/17 3:04pm Ottis Gibson appears set to become South Africa coach South Africa captain Faf du Plessis says it has been communicated to his players that Ottis Gibson is the preferred candidate to take over as coach.
Du Plessis made the revelation on South Africa's return home from the 3-1 Test series defeat in England, for whom Gibson is currently employed as bowling coach.England had put talk of Gibson's possible exit on hold before the series finale at Old Trafford, which they won by 177 runs to ensure outright series victory.
England vs W Indies August 17, 2017, 1:00pm Live on Cricket South Africa (CSA) had convened a selection panel including former national team coaches Gary Kirsten and Eric Simons to identify an individual to take the team forward, and it would appear they have decided on the former West Indies coach.
Du Plessis could do little to stop England claiming series victory at Old Trafford "They've chosen Ottis Gibson as their recommendation and now …the board decides whether they want to use that recommendation or not.
Highlights from day four of the fourth Test between England and South Africa at Old Trafford.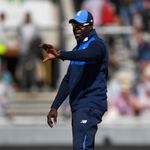 Read more…