Rediff – 'I think we need to start planning for the 2019 World Cup.

Summary
We are taking that as a challenge and look to try out different things'IMAGE: India captain Virat Kohli has stressed on the importance of finding the right team balance going into the World Cup.
Photograph: Dinuka Liyanawatte/ReutersHis eyes firmly trained on the 2019 World Cup, skipper Virat Kohli on Sunday told the Indian cricket fraternity to expect "a lot of changes" in the coming days as the team starts drawing a roadmap for the mega event.
Kohli remained unbeaten on 82, while opener Shikar Dhawan slammed a fine century, as India recorded their biggest win in terms of overs left in a 200-plus chase.
Asked about the move to play Axar Patel in place Kuldeep Yadav, he said, "We thought Axar was a gun fielder and felt that one wrist spinner is enough.
According to Kohli, the ball was coming onto the bat like a "dream" after India bowled out Sri Lanka for 216 in 43.2 overs.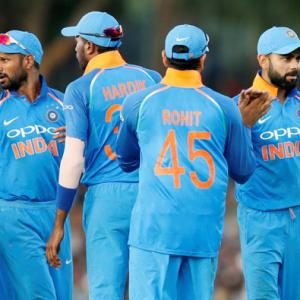 Read more…