Sky Sports – England Women's cricket and rugby teams visit Downing Street
By Mark Crellin
Last Updated: 29/08/17 8:14pm
England's women's rugby and cricket teams visit 10 Downing Street after their impressive World Cup performances
Theresa May welcomed the England cricket and rugby teams to Downing Street on Tuesday after a fantastic summer for women's sport.

Summary
England Women's cricket and rugby teams visit Downing Street By Mark Crellin Last Updated: 29/08/17 8:14pm England's women's rugby and cricket teams visit 10 Downing Street after their impressive World Cup performances Theresa May welcomed the England cricket and rugby teams to Downing Street on Tuesday after a fantastic summer for women's sport.
The cricketers secured victory in the Women's World Cup in July, beating India in an epic final at a sold-out Lord's.
Meanwhile, their rugby union counterparts finished as runners-up at the Women's World Cup on Saturday, beaten by New Zealand in a high-quality final in Belfast.
Women's sport is moving at such a fast pace in England."
Prime Minister Theresa May with members of the England Women's cricket and rugby teams England rugby captain Sarah Hunter concurred, pointing out how much interest there had been in the team's progress at the World Cup.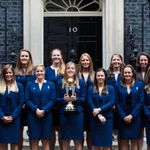 Read more…