Sky Sports – England's Stuart Broad sets bowling return date ahead of Ashes tour
By Zinny Boswell
Last Updated: 21/09/17 4:19pm
Stuart Broad has set a date for his return to bowling after injuring his heel for England in the final summer Test against the Windies
England fast bowler Stuart Broad has revealed he will return to the nets to practice bowling on October 10 ahead of England's Ashes tour in Australia.

Summary
England's Stuart Broad sets bowling return date ahead of Ashes tour By Zinny Boswell Last Updated: 21/09/17 4:19pm Stuart Broad has set a date for his return to bowling after injuring his heel for England in the final summer Test against the Windies England fast bowler Stuart Broad has revealed he will return to the nets to practice bowling on October 10 ahead of England's Ashes tour in Australia.
Stuart Broad is set to return to bowling in the nets on October 10 ahead of the Ashes tour in November Speaking ahead of England's second of five one-day internationals against the Windies, Broad spoke positively about his recovery.
I have a bit of bone bruising but a couple of weeks off the impact of fast bowling and that will heal quite nicely," Broad told Sky Sports News HQ.
Watch the best of the action from the first ODI between England and Windies from Old Trafford "So it's very much getting the rest of the body used to bowling again before we get on the plane.
"Broad misses out but you can watch the rest of the England team play the Windies in the rest of the one-day series, live on Sky Sports.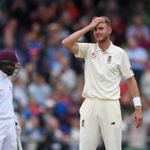 Read more…