Sky Sports – Dominic Cork on Stuart Broad's struggles, bouncers and England's line-up for Melbourne
Cork on Broad: "He's been trying to work on getting his wrist behind the ball, changing his thumb position but like with anything it doesn't just come overnight.

Summary
Dominic Cork on Stuart Broad's struggles, bouncers and England's line-up for Melbourne Cork on Broad: "He's been trying to work on getting his wrist behind the ball, changing his thumb position but like with anything it doesn't just come overnight.
Last Updated: 22/12/17 3:37pm Stuart Broad has been struggling for form during the Ashes In the latest Hit for Six, Dominic Cork discusses Stuart Broad's struggles, short-pitched bowling, England's line-up for the fourth Test at the MCG and his cricketing highlight of 2017.
He's got a fantastic record at Test level bowling to left-handers but the problem he has is his wrist has made it difficult for him to bowl at right-handers because he's breaking his wrist.
He's taken only two wickets in the series so far.Mason Crane had a fantastic domestic season out in Australia last winter but it's a big ask for him to go straight into a Boxing Day Test match at the MCG and make your debut.
These guys are the future.If you look at Test cricket around the world at the moment, apart from Australia, there are not a lot of quicks around with pace like the Aussie trio.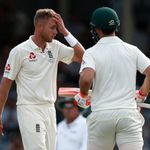 Read more…