Rediff – Images from Day 5 of the 4th Ashes Test played at the MCG on Saturday
Australia captain Steve Smith tormented England with another century as the fourth Ashes Test ended in a frustrating draw for Joe Root's side on a lifeless Melbourne Cricket Ground pitch on Saturday.

Summary
Images from Day 5 of the 4th Ashes Test played at the MCG on SaturdayAustralia captain Steve Smith tormented England with another century as the fourth Ashes Test ended in a frustrating draw for Joe Root's side on a lifeless Melbourne Cricket Ground pitch on Saturday.
Smith marched off unbeaten after a 275-ball knock of 102, having nudged Australia to 263 for four and a lead of 99 runs before the captains called it off midway through the final session.
IMAGE: Australia's captain Steve Smith kisses his helmet after reaching his century.
Paceman Stuart Broad had dismissed middle-order batsman Shaun Marsh for four with the last ball before the interval but Smith has proved a constant thorn in England's side throughout the series.
Smith heads to Sydney comfortably top of the batting list with 604 runs in the series at an average of 151 but he was still rueful for dropping Cook on 66 and again on 153 as the former England skipper took the game away from Australia with his knock.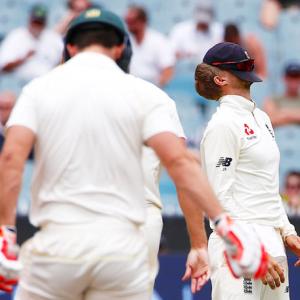 Read more…