Rediff – Images from Day 4 of the 5th and final Test between Australia and England at the SCG in Sydney on Sunday
IMAGE:  England's Alastair Cook reacts after being bowled by Australia's Nathan Lyon during the fourth day of the fifth Ashes Test on Sunday.

Summary
Images from Day 4 of the 5th and final Test between Australia and England at the SCG in Sydney on SundayIMAGE:  England's Alastair Cook reacts after being bowled by Australia's Nathan Lyon during the fourth day of the fifth Ashes Test on Sunday.
Photograph: David Gray/ReutersEngland lost openers Alastair Cook and Mark Stoneman inside the first six overs of their second innings and stumbled to tea on 25 for two on the fourth day of the fifth Ashes Test on Sunday, still 278 runs from forcing their hosts to bat again.
Brothers Shaun and Mitchell Marsh earlier both scored centuries on a scorching fourth morning at the Sydney Cricket Ground to put Australia into a position where they could declare on 649 for seven an hour into the second session.
England skipper Joe Root reviewed the lbw decision to no avail but there was some fortune on the next delivery when Josh Hazlewood induced an edge from Cook only for Shaun Marsh to drop him at first slip.
Shaun Marsh made 156 from 291 balls before being run out by a Stoneman direct hit just after lunch, with Mitchell having departed for 101 on the delivery after securing his second century when Tom Curran took out his off stump.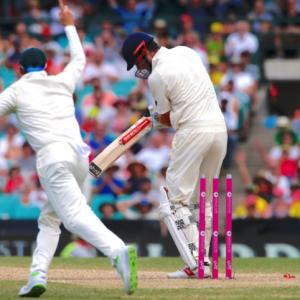 Read more…