Sky Sports – West Indies to play Rest of the World XI at Lord's to raise funds for hurricane-damaged grounds
Last Updated: 13/02/18 6:43pm
Lord's will host a special game between the West Indies and a Rest of the World XI in May
The West Indies will play a Rest of the World XI at Lord's on May 31 in a Twenty20 game to raise money for grounds in the Caribbean damaged by last year's savage hurricanes.

Summary
West Indies to play Rest of the World XI at Lord's to raise funds for hurricane-damaged grounds Last Updated: 13/02/18 6:43pm Lord's will host a special game between the West Indies and a Rest of the World XI in May The West Indies will play a Rest of the World XI at Lord's on May 31 in a Twenty20 game to raise money for grounds in the Caribbean damaged by last year's savage hurricanes.
Dominica's Windsor Park and James Ronald Webster Park in Anguilla suffered extensive damage during the hurricanes and the England and Wales Cricket Board have arranged the match in conjunction with the Marylebone Cricket Club and Cricket West Indies.
"I would like to thank our partners, Sky Sports, for their immediate support by agreeing to broadcast this special International match, and MCC for agreeing to host it at Lord's.
"Cricket West Indies president Dave Cameron added: "Hurricanes Irma and Maria have devastated parts of the Eastern Caribbean and we have been considering how CWI can best show support for our region in the most impactful way.
"I would like personally to thank MCC for agreeing to host the match at Lord's, and ECB, especially their President Giles Clarke, for their kind and generous support of this initiative.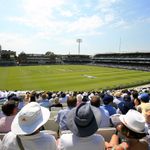 Read more…