Rediff – Having pocketed the series 4-1, with a match still to go, India snatch ICC ODI top rank from Proteas
IMAGE: Virat Kohli and Hardik Pandya celebrate the wicket of Jean-Paul Duminy during the 5th ODI in Port Elizabeth on Tuesday.

Summary
Having pocketed the series 4-1, with a match still to go, India snatch ICC ODI top rank from ProteasIMAGE: Virat Kohli and Hardik Pandya celebrate the wicket of Jean-Paul Duminy during the 5th ODI in Port Elizabeth on Tuesday.
Photograph: BCCI/TwitterIndia cemented their spot at the top of the ICC One-Day International (ODI) Team Rankings after victory in the fifth of the six-match series against South Africa in Port Elizabeth.
India had entered the six-match series in second position on 119 points, two points behind leaders South Africa.
IMAGE: Team India celebrate on claiming the last wicket, that of Morne Morkel, to win the 5th ODI and clinch the series and seal top spot in the ODI rankings on Tuesday.
Irrespective of the outcome of the final ODI between South Africa and India, if England win all the five matches against New Zealand, then Eoin Morgan's side will claim second position, with South Africa slipping to third.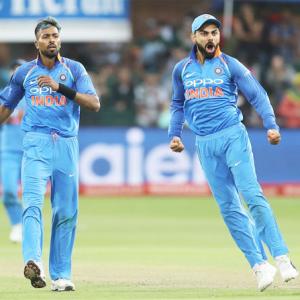 Read more…