Sky Sports – Jack Leach claims best figures by England Lions spinner during defeat to West Indies A
West Indies A take lead in three-match series, second game at Sabina Park from Sunday
Last Updated: 14/02/18 7:24pm
Jack Leach bagged match figures of 8-110 in Jamaica
Jack Leach claimed the best figures by an England Lions spinner but could not prevent the side losing to West Indies A in Jamaica.

Summary
Jack Leach claims best figures by England Lions spinner during defeat to West Indies A West Indies A take lead in three-match series, second game at Sabina Park from Sunday Last Updated: 14/02/18 7:24pm Jack Leach bagged match figures of 8-110 in Jamaica Jack Leach claimed the best figures by an England Lions spinner but could not prevent the side losing to West Indies A in Jamaica.
Somerset star Leach recorded match figures of 8-110, beating Graeme Swann's 8-156 against Zimbabwe in 1999, after bagging 5-26 from 13 overs in West Indies A's second innings on the fourth and final day.
England will now look to rebound in the second game of the three-match series, which gets underway at Sabina Park on Sunday.
Leach's five-for in the second innings could not inspire Lions to victory "We gave it a good go – but unfortunately we couldn't quite get over the line," said Leach.
"It was always going to be difficult, but on that wicket, things happen pretty quickly.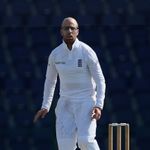 Read more…