Sky Sports – Alastair Cook averaged a lick over five in New Zealand – but should remain in the England Test side, says Bob Willis
It's that time again – Bob Willis' England player ratings!

Summary
Alastair Cook averaged a lick over five in New Zealand – but should remain in the England Test side, says Bob Willis It's that time again – Bob Willis' England player ratings!
Stuart Broad is top of the class after bagging 11 wickets but Alastair Cook and Moeen Ali aren't graded so high, with Bob believing Ali faces a real fight to regain his place in the Test XI.
Read on for Bob's player ratings in full – and why he reckons Root is struggling to turn fifties into centuries…
Joe Root – 6/10142 runs @ 35.
Dawid Malan – 6/1078 runs @ 19.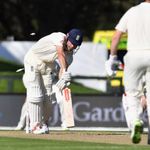 Read more…