Sky Sports – Aaron Finch puts hand up to lead Australia into 2019 World Cup
Last Updated: 15/04/18 1:10pm
Aaron Finch has put himself in the frame to become Australia's next one-day captain.

Summary
Aaron Finch puts hand up to lead Australia into 2019 World Cup Last Updated: 15/04/18 1:10pm Aaron Finch has put himself in the frame to become Australia's next one-day captain.
Tim Paine has replaced Smith as Test captain, but no decision on who will replace him as skipper of the ODI side is expected until Australia name their squad for the limited-overs tour of England next month.
Australia will be without David Warner and Steve Smith when they tour England in June "I'd definitely put my hand up for it but I haven't thought about it to be honest," Finch told cricket.com.au.
Whoever is selected is likely to be charged with leading defending champions Australia into the 2019 World Cup, which will be held in England and Wales between May and July of next year.
But first Australia face a five-ODI series against an England side who defeated them 4-1 on home soil, and Finch concedes turning that result around will be a big ask without Smith and Warner.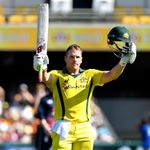 Read more…