Sky Sports – Sky Cricket Podcast: England's Joe Root reflects on his first year as captain
"It is about keeping the players thinking about the right things and making sure we're doing everything we can to be winning games of cricket.

Summary
Sky Cricket Podcast: England's Joe Root reflects on his first year as captain "It is about keeping the players thinking about the right things and making sure we're doing everything we can to be winning games of cricket.
Only that way will we get back up to where we want to be, which is back towards the top of the world rankings" Last Updated: 17/05/18 12:58pm A year into the job as England Test captain, Joe Root reflects on a testing introduction to the job and discusses his Ashes and World Cup ambitions.
A year into the job as England Test captain, Joe Root talks to Sky Sports Cricket to reflect on a testing introduction.
With Pakistan and India the tourists to England this summer – the first Test against Pakistan live on Sky Sports Cricket from Thursday, May 24 – Root is optimistic his side can bounce back and begin to climb the ICC world Test rankings.
Click here to listen to the podcast in full, which also includes Root's thoughts on…Off-the-field incidents that disrupted his first year as captainLooking ahead to the Ashes and ICC Cricket World Cup in 2019His upcoming battle against India captain Virat KohliBeing in and out of the England T20I side and not being selected for the IPLThe opportunity to grow the game in England over the next yearDownload the latest Sky Cricket podcast now!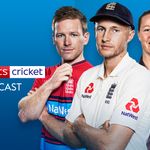 Read more…