Rediff – 'Deeply hurt by how we played…

Summary
'Deeply hurt by how we played…
Photograph: BCCIIndia and Royal Challengers Bangalore captain Virat Kohli, on Thursday, said he was 'deeply sorry' for RCB's failure to make the ongoing Indian Premier League's knockout stage and vowed to turn things around next season.
RCB finished third from bottom after losing eight of their 14 matches, let down by a weak bowling attack and inconsistent batting which was heavily reliant on Kohli and A B de Villiers.
"Next year, we will be putting in more effort," Kohli asserted.
Kohli is currently sixth in this year's list of top IPL scorers after amassing 548 runs at an average of 54.80 in 14 matches.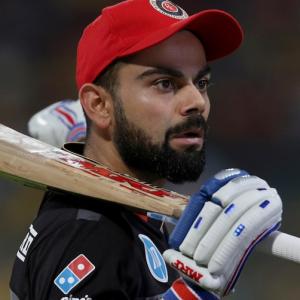 Read more…