Rediff – 'If you want to take wickets, you need to turn the ball.

Summary
India's chinaman left-arm spinner Kuldeep Yadav says he never really gets perturbed when he is being hit for sixes as a childhood drill has conditioned him well to deal with the pressure of bad spells.
IMAGE: Kuldeep Yadav's three-wicket haul in the 14th over turned the match in India's favour.
Using his googlies, Kuldeep bamboozled the English batting line-up and the wrist spinner said his three-wicket haul in the 14th over changed the momentum of the game in India's favour.
The wrist spinner stressed that on batsmen-friendly English wickets, line and length is key even for a spin bowler along with varying pace.
Line and length are important for a spinner, and if a bowler is varying his pace on it, then batsmen will struggle," he said.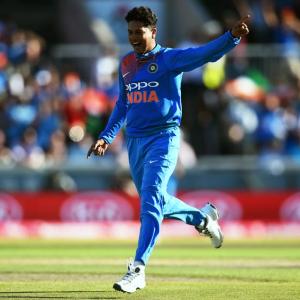 Read more…