Sky Sports – Virat Kohli overtakes Steve Smith to top ICC Test batting rankings
Sam Curran rises in batting, bowling and all-rounder rankings
Last Updated: 05/08/18 8:53am
Virat Kohli has overtaken Steve Smith to become the best Test batsman in the world, becoming only the seventh Indian to reach the summit of the ICC rankings.

Summary
Virat Kohli overtakes Steve Smith to top ICC Test batting rankings Sam Curran rises in batting, bowling and all-rounder rankings Last Updated: 05/08/18 8:53am Virat Kohli has overtaken Steve Smith to become the best Test batsman in the world, becoming only the seventh Indian to reach the summit of the ICC rankings.
Kohli scored 149 and 51 in India's 31-run defeat to England in the first Test at Edgbaston but with only a five-point lead will need to maintain his form during the remaining four Tests of the series.
Tendulkar, Rahul Dravid, Gautam Gambhir, Sunil Gavaskar, Virender Sehwag and Dilip Vengsarkar are the other India batsmen to have topped the rankings during their careers.
England's 1000th men's Test was an enthralling contest and 20-year-old Sam Curran's player of the match performance has seen him shoot up the batsmen, bowlers and all-rounders' rankings.
England vs India August 9, 2018, 10:00am Live on The second Test of the series at Lord's begins on Thursday, with live coverage on Sky Sports Cricket.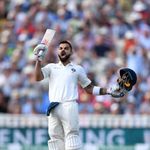 Read more…