Rediff – 'There comes a time for every cricketer, when they have to stop playing.

Summary
I think that time has come for me'Sri Lanka's Rangana Herath, the most successful left-arm spinner in Test history, will retire after the series opener against England in Galle next month, local media reported on Monday.
Sri Lanka's The Island newspaper reported that Herath had made a request to the country's cricket board (SLC) to allow him to quit in Galle.
Ahead of Sri Lanka's two-match Test series against South Africa at home in July, Herath had said he was contemplating retirement in November.
For most of his career he was overshadowed by Sri Lankan spin great Muttiah Muralitharan, who took 800 Tests wickets before retiring from the format in 2010 – also at Galle.
Herath has been the leader of Sri Lanka's spin attack since the retirement of Muralitharan but has struggled in recent years with the persistent knee injuries.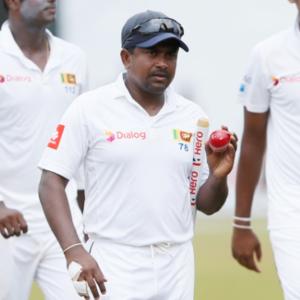 Read more…