Sky Sports – Liam Plunkett's England Diary: Seamer talks Test ambitions and bowling to Steve Smith
"I feel like an established part of the XI now but I am still looking over my shoulder because I know that we have talented players waiting in the wings.

Summary
Liam Plunkett's England Diary: Seamer talks Test ambitions and bowling to Steve Smith "I feel like an established part of the XI now but I am still looking over my shoulder because I know that we have talented players waiting in the wings.
By Liam Plunkett – @Liam628 Last Updated: 13/01/18 11:19am In his first column for Sky Sports, England seamer Liam Plunkett discusses his Test ambitions, pace bowling, T10 cricket and more ahead of the ODI series against Australia… I caught highlights of the Ashes in between playing cricket and spending some time in the States and it would definitely have been nice to get a call-up.
I've played a bit of cricket over the winter in the Bangladesh Premier League and then in the T10 in Sharjah and then got a couple of wickets in the warm-up game on Thursday, so it now feels like I'm really into the tour.
We have a great system in place for the seamers – Kevin Shine has worked a lot with me, for example – but you also want these young guys to figure stuff out for themselves.
Eoin Morgan and Alex Hales share a joke during the T10 League in Sharjah Australia's captain Steve Smith is also a fine player – he is in a purple patch right now but this is a different format and we have a few lads coming into the squad who haven't bowled at him.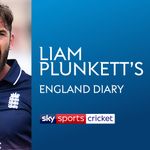 Read more…