Sky Sports – Rishabh Pant scores second-quickest T20 hundred, off 32 balls
Chris Gayle's 30-ball hundred in IPL remains Twenty20 record
Last Updated: 14/01/18 12:31pm
Rishabh Pant smashed a 32-ball T20 hundred for Delhi
Indian batsman Rishabh Pant smashed the second-fastest hundred in T20 history with a 32-ball effort for Delhi.

Summary
Rishabh Pant scores second-quickest T20 hundred, off 32 balls Chris Gayle's 30-ball hundred in IPL remains Twenty20 record Last Updated: 14/01/18 12:31pm Rishabh Pant smashed a 32-ball T20 hundred for Delhi Indian batsman Rishabh Pant smashed the second-fastest hundred in T20 history with a 32-ball effort for Delhi.
Pant's century was just two deliveries slower than the record 30-ball ton Chris Gayle cracked for Royal Challengers Bangalore against Pune Warriors in the Indian Premier League in 2013.
The 20-year-old finished unbeaten on 116 from 28 balls, having hit 12 sixes and eight fours, in the game against Himachal Pradesh at Feroz Shah Kotla in the Syed Mushtaq Ali Trophy.
Pant, retained by Delhi Daredevils ahead of the 2018 IPL, told BCCI.TV: "It feels good to see your name in the record books but one doesn't play for records.
Chris Gayle's 30-ball IPL century is the quickest in T20 cricket The right-hander has played two Twenty20 internationals for India, scoring five not out on debut against England last February in Bengaluru and 38 against Windies in Kingston in July.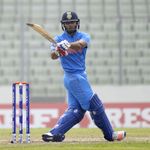 Read more…