Rediff – 'We are fully aware of his strengths and how we can handle him.'
IMAGE: Chris Gayle in action for Royal Challengers Bangalore during IPL-8 in 2015.

Summary
Royal Challengers Bangalore head coach Daniel Vettori claimed his team is pretty well-equipped to handle Kings XI Punjab batsman Chris Gayle's explosive batting because they are aware of his strengths.
We are fully aware of his strengths and how we can handle him," Vettori said of Gayle, who played for Royal Challengers Bangalore in the past.
On whether RCB would consider a sixth bowling option, Vettori said the team looks at it more as an opportunity for five bowlers to do their job, rather than wait for someone to fail and another come into the scene.
On Virat Kohli batting at No.
"The reason we wanted Brendon and Quinton at the top is because they are so dynamic in the Power Play and then AB can take over in the middle stages.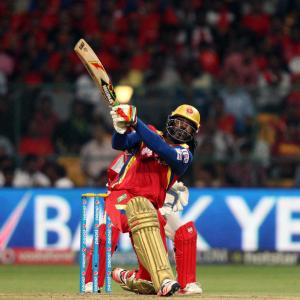 Read more…