Rediff – IMAGE: Shane Warne and Ajinkya Rahane of the Rajatshan Royals chat.

Summary
Photograph: BCCITheir fate hanging by a thread, Rajasthan Royals captain Ajinkya Rahane believes his side still can qualify for the play-offs even after a bitter six-wicket defeat to Kolkata Knight Riders in the Indian Premier League here.
After a great start by Jos Buttler and Rahul Tripathi, Rajasthan were bundled out for 142, which was chased down by KKR in 18 overs on Tuesday night.
Rahane admitted that they have not batted well this season as they should have posted something around 175-180 on Tuesday, especially after the magnificent start provided by Buttler and Tripathi.
"After the magnificent start given by Rahul Tripathi and Jos Buttler, we did not string any partnerships.
But Rahane said Rajasthan have good overseas players to replace the Englishmen.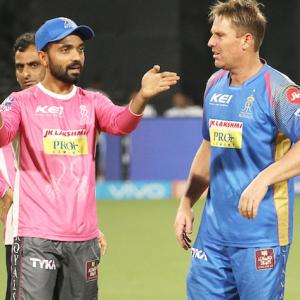 Read more…