Sky Sports – Hampshire sign Mujeeb Ur Rahman and Colin Munro for Vitality Blast
Last Updated: 17/05/18 5:58pm
Mujeeb Ur Rahman (L) is an exciting addition to the Hampshire T20 squad
Hampshire have signed Afghanistan 'mystery spinner' Mujeeb Ur Rahman and New Zealand batsman Colin Munro for this summer's Vitality Blast.

Summary
Hampshire sign Mujeeb Ur Rahman and Colin Munro for Vitality Blast Last Updated: 17/05/18 5:58pm Mujeeb Ur Rahman (L) is an exciting addition to the Hampshire T20 squad Hampshire have signed Afghanistan 'mystery spinner' Mujeeb Ur Rahman and New Zealand batsman Colin Munro for this summer's Vitality Blast.
Ur Rahman, one of the most exciting young talents in the game, will be available for the entire competition while Munro can play until his Caribbean Premier League commitments begin in August.
Chennai vs Kings XI May 20, 2018, 3:00pm Live on The 17-year-old Ur Rahman impressed at the U19 Asia Cup and helped the senior side claim a place at the World Cup before securing a deal in the Indian Premier League.
Munro boasts a strike-rate of 163.59 in 45 Twenty20 internationals for New Zealand, with the left-hander currently sitting second in the ICC's World T20I batting rankings.
Colin Munro is second in the T20 international batting rankings He said: "Hopefully I can help the team get off to a flying start in the competition and contribute to securing a place in the knockout stages again this year.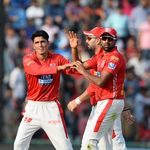 Read more…