Sky Sports – ICC's cricket committee to discuss removing coin toss from Test Championship games
Last Updated: 17/05/18 4:17pm
Will the coin toss continue to be used in Test Championship matches?

Summary
ICC's cricket committee to discuss removing coin toss from Test Championship games Last Updated: 17/05/18 4:17pm Will the coin toss continue to be used in Test Championship matches?
Removing the coin toss from Test Championship matches will be one of the issues up for discussion at an ICC cricket committee meeting later this month.
Briefing notes, reported by Cricinfo on Wednesday, revealed significant concerns at the level of home advantage in Test cricket.
The ICC briefing note read: "There is serious concern about the current level of home team interference in Test pitch preparation.
Former India spinner Anil Kumble heads up the ICC cricket committee.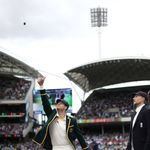 Read more…