Sky Sports – Justin Langer says Australia expect abuse in England but must start rebuilding reputation
Last Updated: 26/05/18 10:18am
Justin Langer is the new Australia head coach
Justin Langer says Australia are out to rebuild their reputation in England this summer but expects to "cop it" from home fans, players and media alike.

Summary
Justin Langer says Australia expect abuse in England but must start rebuilding reputation Last Updated: 26/05/18 10:18am Justin Langer is the new Australia head coach Justin Langer says Australia are out to rebuild their reputation in England this summer but expects to "cop it" from home fans, players and media alike.
Australia return to the international fray next month for the first time since the ball-tampering scandal in South Africa that led to David Warner, Steve Smith and Cameron Bancroft all being banned.
England vs Pakistan May 26, 2018, 10:00am Live on Darren Lehmann also stepped down as coach of the national team, and the trip to England will be Langer's first since he was installed as his replacement.
Australia face England in five one-day internationals, starting on June 13, and a Twenty20 match after opening up their brief tour with warm-ups against Sussex and Middlesex.
Langer knows it will take time for Australia's image to be restored but he is determined to make a start when he leads a suddenly inexperienced squad into battle.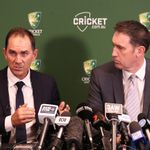 Read more…