Sky Sports – David Warner and Cameron Bancroft join Strike League in Australia
By Joe Shread
Last Updated: 29/05/18 8:23am
David Warner and Cameron Bancroft are currently banned from playing international or state-level cricket
David Warner and Cameron Bancroft have agreed to take part in the Strike League, a one-day tournament in the Northern Territory in Australia.

Summary
David Warner and Cameron Bancroft join Strike League in Australia By Joe Shread Last Updated: 29/05/18 8:23am David Warner and Cameron Bancroft are currently banned from playing international or state-level cricket David Warner and Cameron Bancroft have agreed to take part in the Strike League, a one-day tournament in the Northern Territory in Australia.
Warner was stripped of the Australia vice-captaincy for being one of the players who hatched a plan to tamper with the ball Warner said: "I'm really looking forward to playing in the Strike League in July.
Northern Territory cricket chief executive Joel Morrison added: "We're delighted that Cameron and David will be joining us in Darwin for the Strike League.
Bancroft was filmed attempting to rub sandpaper on the ball in Cape Town, resulting in his nine-month ban Warner is currently serving a one-year ban – along with Steve Smith, who was also stripped of the captaincy – for his part in the scandal in South Africa, while Bancroft is suspended for nine months.
Smith recently announced his return to cricket in Canada's T20 league in late June, with Warner also expected to play in the competition.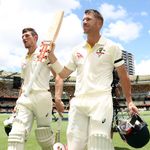 Read more…