Sky Sports – Stuart Broad is commentating for Sky Sports during the ODI series against Australia
Stuart Broad made Ricky Ponting one of his victims during his scintillating, five-wicket spell at The Oval in 2009 as England beat Australia to regain the Ashes.

Summary
Stuart Broad is commentating for Sky Sports during the ODI series against Australia Stuart Broad made Ricky Ponting one of his victims during his scintillating, five-wicket spell at The Oval in 2009 as England beat Australia to regain the Ashes.
It was Broad who was happier come the conclusion, with England earning a slender three-wicket victory over their rivals, thanks to three-wicket hauls for Moeen Ali and Liam Plunkett and half-centuries for skipper Eoin Morgan and Test counterpart Joe Root.
Broad's England place was questioned by Michael Vaughan ahead of the second Test against Pakistan at Headingley earlier this month – which the hosts won by an innings to earn a series draw – with the former captain saying the senior seamer could be left out to "ruffle" the dressing room.
The benefits have been clear – Broad claimed 11 wickets in two Tests at under 19 in New Zealand and then 14 in three games for Notts in the top flight before resuming England duty.
Stuart Broad will also be part of the Sky Sports team for the second ODI between England and Australia in Cardiff on Saturday, Watch from 10.30am on Sky Sports Cricket and Main Event.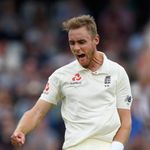 Read more…