Sky Sports – Sachin Tendulkar urges two-ball rethink after England ODI record
Last Updated: 22/06/18 9:50am
Sachin Tendulkar says the ICC should scrap using two balls in ODIs
Former India captain Sachin Tendulkar has called for the practice of using two new balls in one-day cricket to be scrapped after England set a new record score.

Summary
Sachin Tendulkar urges two-ball rethink after England ODI record Last Updated: 22/06/18 9:50am Sachin Tendulkar says the ICC should scrap using two balls in ODIs Former India captain Sachin Tendulkar has called for the practice of using two new balls in one-day cricket to be scrapped after England set a new record score.
Tendulkar, the highest-scoring batsman of all time, tweeted that having two balls in each innings "is a perfect recipe for disaster as each ball is not given the time to get old enough to reverse (swing)".
Jonny Bairstow has helped England hit a record ODI score this week Former Pakistan seamer Waqar Younis, a master of the reverse swing alongside Wasim Akram during their playing days, tweeted that he "totally agreed" with Tendulkar.
The comments came after England's batsmen set a new ODI record this week with a huge 481-6 against Australia at Nottingham.
Then on Thursday, England chased down the visitors' 310 – a more-than-respectable total in former days – with 32 balls and six wickets to spare.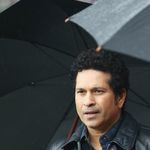 Read more…