Sky Sports – Nasser Hussain reminds the watching media of his position in the batting order in the 2002 NatWest Final against India
England and India do battle once again, with a three-match ODI series getting underway at Trent Bridge on Thursday, live on Sky Sports Cricket from 12pm.

Summary
Nasser Hussain reminds the watching media of his position in the batting order in the 2002 NatWest Final against India England and India do battle once again, with a three-match ODI series getting underway at Trent Bridge on Thursday, live on Sky Sports Cricket from 12pm.
Mascarenhas magic in veinSixth ODI, The Oval, September 2007 Dimi Mascarenhas smacks five sixes in a row in the final over against India at The Oval A week on from that Old Trafford win, the seesawing 2007 ODI series came to the capital for the sixth game of seven – England holding a 3-2 lead and looking to close things out, having missed the opportunity to do so in the fifth game at Headingley.
After being set 281 to win at Lord's, England were struggling at 173-5 with the loss of Ben Stokes – in his debut series – for just seven, but Bopara stuck in there and was nearing a maiden ODI century as the hosts needed only five runs to win from the final two overs.
It looked like that had played perfectly into England's hands as they reduced India to a more than manageable 129-7 which, given the strength of their T20 power-hitting as we've witnessed first-hand during the recently completed three-match series, was some feat – Bopara popping up again, this time with the ball to take 3-20 from his four overs.
As evident by those Bopara figures, pace off the ball was the order of the day and, on a dry, worn Edgbastion surface, India's spinners had their way with England – Ravi Ashwin taking 2-15, Ravi Jadeja 2-24 – in first reducing them to 46-4 inside nine overs.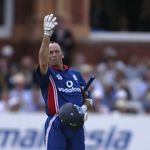 Read more…