Rediff – The England-India series has brought the bowler back into what has been turned into a batsman's game, says Aakar Patel.

Summary
That is why it has been so satisfying to watch the Test cricket series in England brought alive by the bowlers.
IMAGE: Ishant Sharma, who has been awesome throughout the series, has English Captain Joe Root's wicket in the fourth Test at Southampton.
The four Indian quick bowlers in that third Test — Ishant Sharma, Mohammed Shafi, Jaspreet Bumrah and Hardik Pandya — were each of them faster than the four quick bowlers for England — James Anderson, Stuart Broad, Ben Stokes and Chris Woakes.
I like watching Test cricket in England, Australia and South Africa.
India won the Test, the first time it had won a Test in England.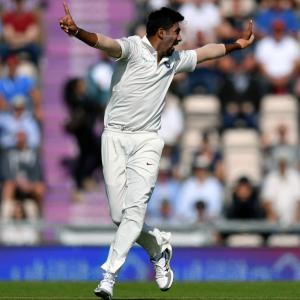 Read more…